Moringa Economics
The Costs of Establishing and Producing Moringa for Food and Fuel
More than any other plant, the Moringa ( Oleifera. ) has played a vital part in the life of human kind and has been central to the development of culture and food. The Moringa is a functional plant in the agricultural system of many countries and has acquired a huge socio–economic importance over the centuries. Owing to its never die nature and adaptability, it plays a major role as a feature as a crop that grows even in harsh soil and difficult climatic conditions.
Moringa India the Moringa arm of Advanced Biofuel Centre (ABC), is the worldwide promoter of Moringa that designs and implements the growing of Moringa Oleifera crops in a structured Agri-Supply chain, Value additions of Moringa and research activities thereon & provides support/services from "Surface to Superfood", "Farming to Fuel", "Soil to Oil" for development and establishment of the Moringa Plantation. ABC Support, assist, represent, advise, negotiate, manage and train participating growers/developers in all matters, to successfully plant and harvest Moringa Oleifera for the production of food, feed, fuel and affiliated products in India and Worldwide.
Moringa Economic: Overview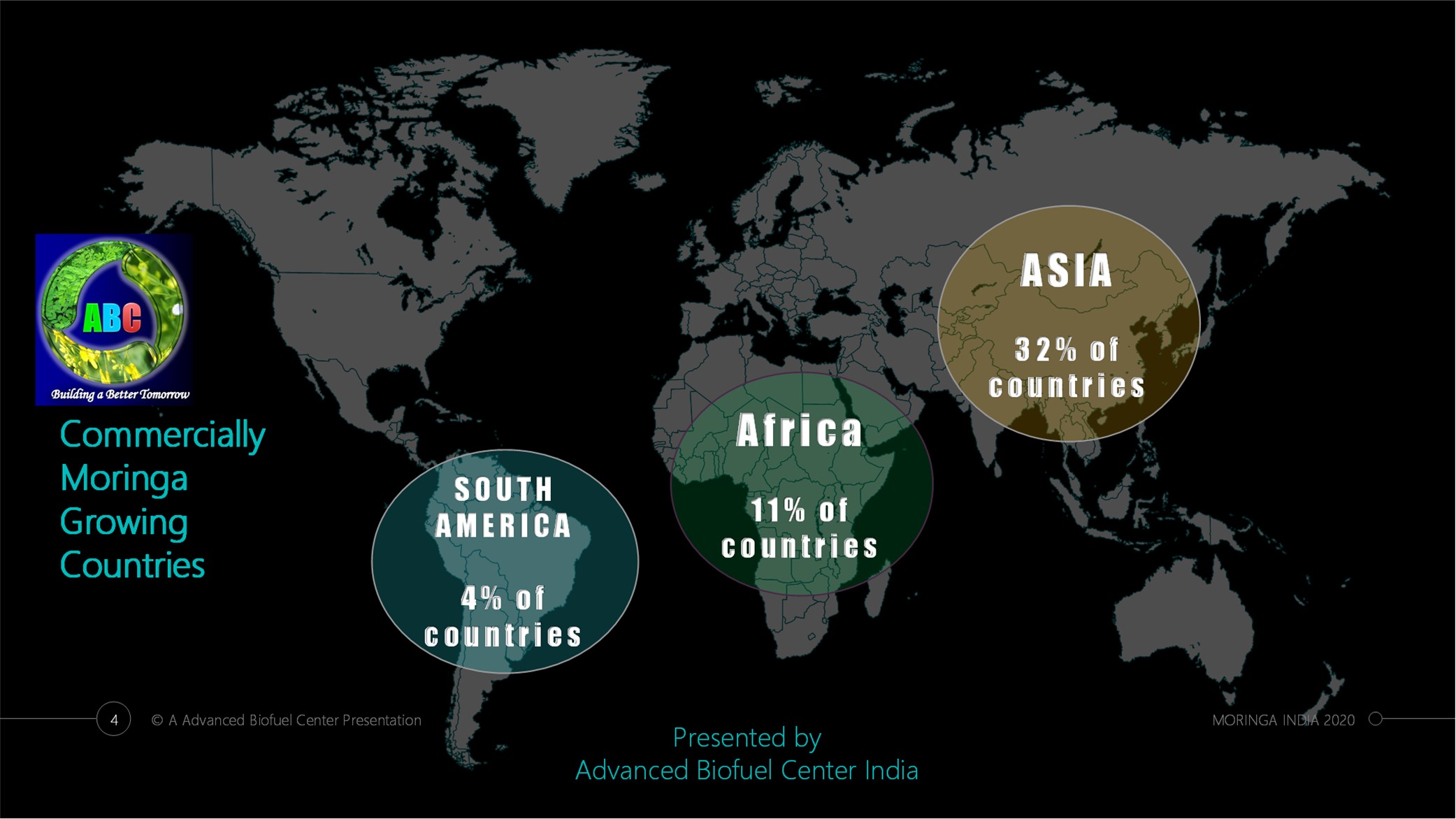 Moringa Oleifera , an Indian origin plant has re-gained its importance due to nutraceutical values and is considered as indispensable plant for health management. It is one of the most incredible plants to the mankind as its nutritional and medicinal properties have immense potential to manage malnutrition and prevent and heal many maladies. On realizing the potentiality of Moringa as a nutritional security provider and the high value energy crop, much importance is attached globally, ABC has been working in exploring best production practices, best horticultural practices, best harvesting practices and best value addition, to demonstrate latest research and development activities just to reap the fullest potential of Moringa.
The growing importance of this crop in meeting demand for agricultural foodstuffs has played a special role in creating favorable conditions for a more effective expansion of Moringa growing, backed in some countries by specific domestic development programmes. In a globalised market, We are able to provide top-quality MOMAX3/ PKM1 Moringa seeds/plants to cover this general increase in Moringa acreage.
Quality Planting material production is a strategic link in the Moringa supply chain and influences the choices and economic performance of the whole production sector either for leaves or seeds. The development of improved varieties, propagation techniques, Floral biology and Advanced production systems in annual Moringa and perennial Moringa, Cropping systems, Nutrient management, biofertilizer for enhancing the production potential of Moringa, weed management, Major insect pests of Moringa and their management, Disease of Moringa and their management, Post harvest management, Seed production strategies for perennial Moringa and the use of new technologies are the key to ensure the developing a modern, sustainable, profitable Moringa growing. A modern advancements has a dynamic domino effect on the Moringa industry to introduce technology is the ideal frame for transferring innovations in Moringa growing. This will allow the Moringa tree and its unique produce to serve as a bridge between tradition and innovation, between culture and health, and to secure growth and economic development.
The Moringa is a species of major economic importance to many countries. Over the last 10 years in particular, there has been an upsurge of interest in its cultivation and production.
Moringa is appreciated not only for its nutritional value but also as an integral part of the health-promoting qualities , which is an accredited nutritional model across the globe. Research have confirmed the value of Moringa tree and its all parts and the dissemination of research findings has stimulated its move into new, high-potential consumption markets. With all these factors coming into play simultaneously, world consumption has increased substantially in the last decade
Moringa Market: Worldwide scenario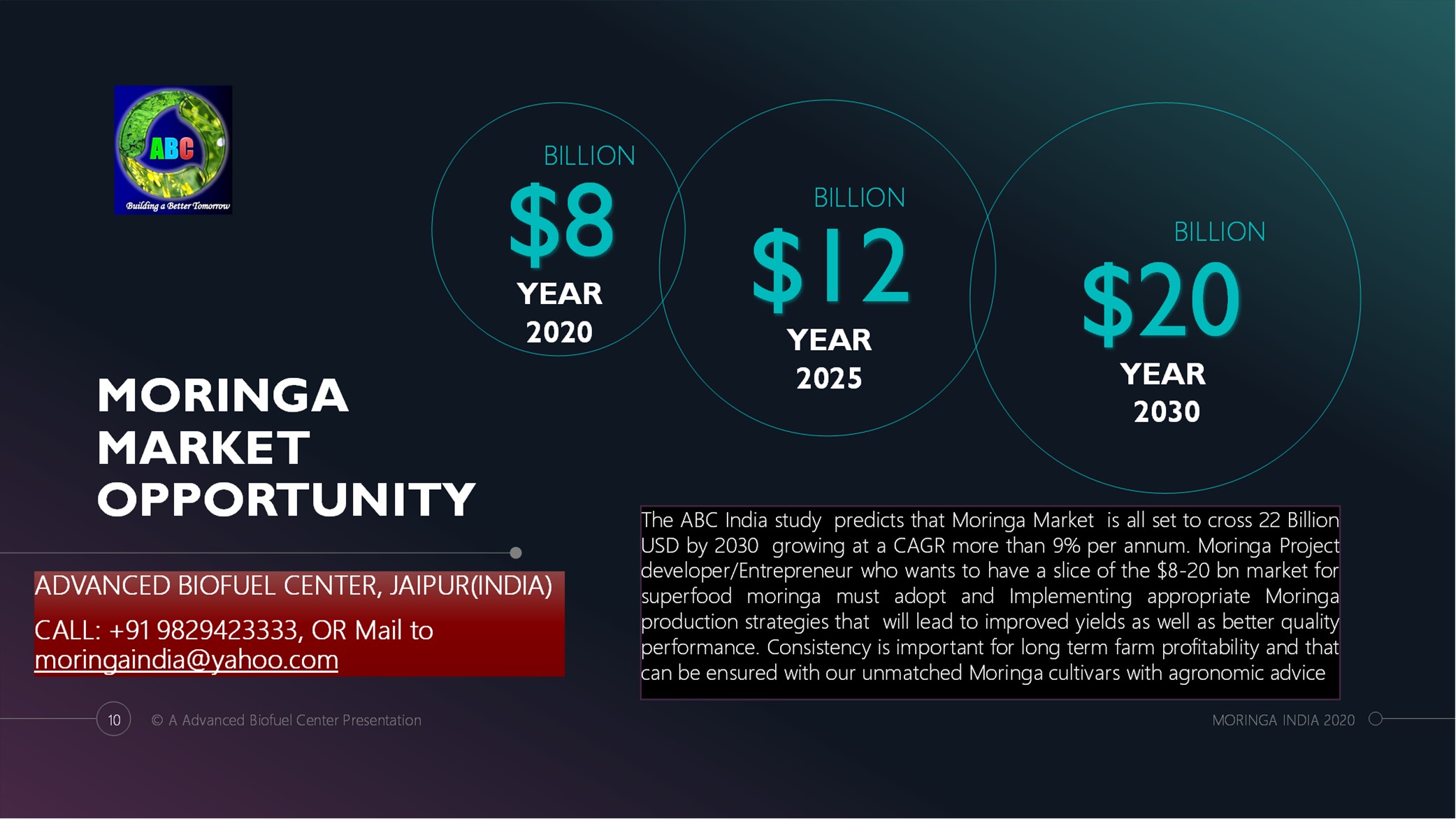 There is a strong consumer demand for Moringa Products which is acknowledged to be essential for human health. This is stimulating the intensification of Moringa growing both in the Asian countries and elsewhere where Moringa cultivation, mainly for leaves/oil, has been resumed or newly developed.
The world food and nutritional supplements companies are predicting that the Moringa products shall acquire than 10% share of the industry in coming years, while companies in the cosmetics field are expecting its enthusiasts to embrace it within their industry. Present volume of trade of Moringa products in international market is not enough to qualify it as a commodity, but it is nevertheless a growing market worldwide . Originated from India, Moringa trees are now found in Ghana, the Philippines, Nigeria, Kenya, Rwanda, Niger, Mozambique, Cambodia and Haiti.
As per ABC studies, which estimate that Moringa orchard crop area will expand from 160,000 ha to crop area to around 1 million ha by 2030.
As per Our study, Today, the Global Moringa Market is estimated at more than US$ 8.0 Billion, which is expected to cross US$ 20.0 Billion by 2030, growing at a rate of more than nine per cent annually.
Moringa acres in 2019 were 40% more compared to 2018, but Moringa India has posted a string of successes over the last 24 months in the area of improved cultivar and technology.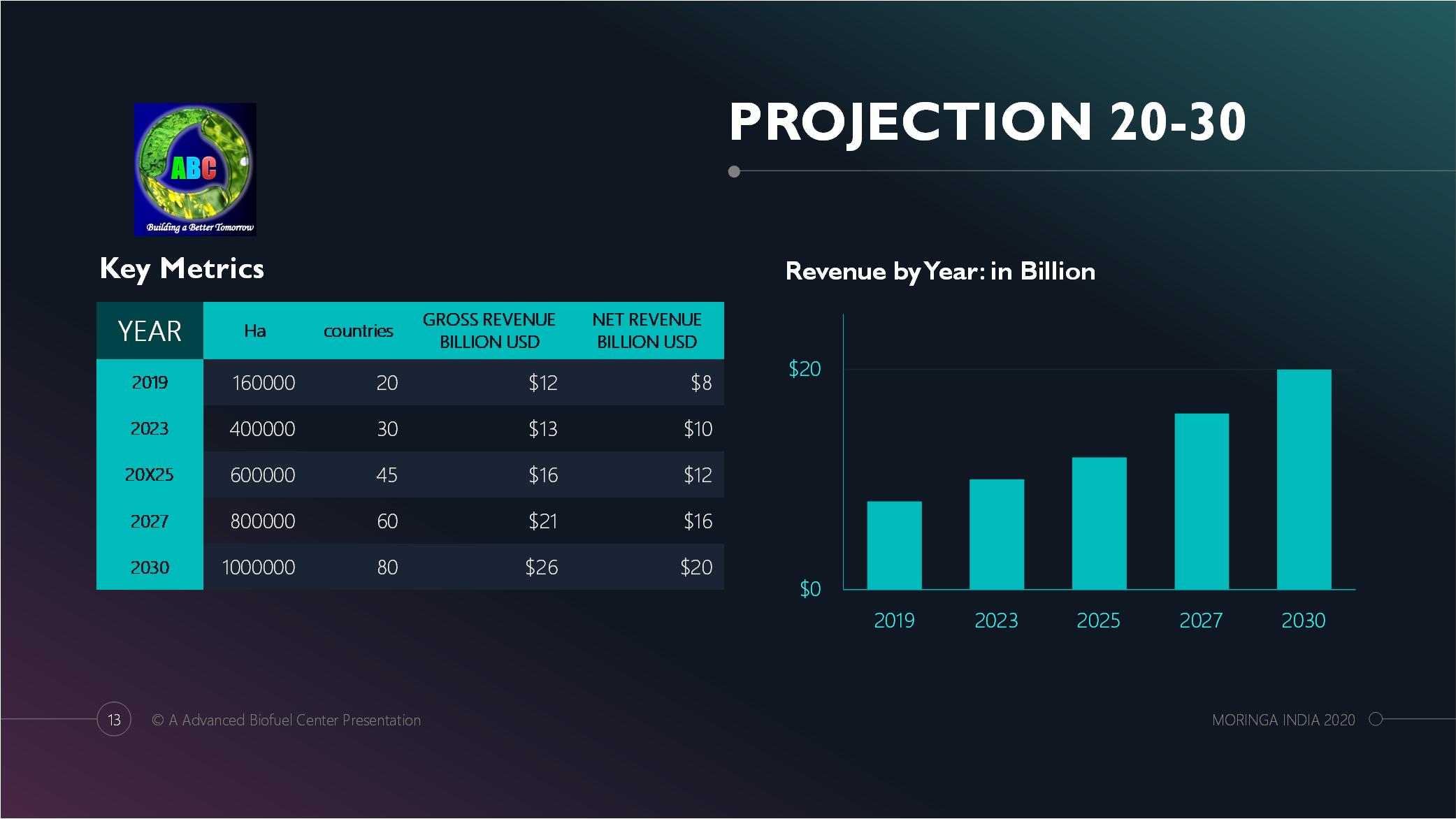 Their successive technology and market milestones over the past few years sparked investment interest.
For years scientists at ABC, have been working on developing new perennial variety for the oilseed Moringa crop and have introduced world's highest yielding variety MOMAX3 Moringa for plantation for seed oil production. 

Their sustainable Moringa ingredients have garnered the most attention, but we like their diversity into several different revenue streams like superfood, cosmetic, pharma, medicinal, animal feed, aquaculture, biogas and biofuel, based on a foundation of advanced agronomy, improved MOMAX3 Moringa cultivar and solid economics."

Moringa India, ABC wanted to build a socially- and environmentally-conscious business around the Moringa modeling the company strategy with the cultural and spiritual traditions of India
Moringa India, ABC are able to stand out through its significant breeding of Moringa, market-development advantages and its large grower footprint.
"Considering further that Moringa production has a relatively low input requirement, it could be promoted as a cash crop for small farmers."
The Advanced Biofuel center, an authoritative entity and parental company, based on their investment analysis, a hectare of Moringa Oil Orchard would require an initial capital of $2000.
Positive returns could be realized in the very beginning years with projected gross margin around $9,000/ha with ROI of +100% in a 1000 ha plantation with MOMAX3 Moringa cultivar
Moringa has the potential for commercial production, either as a cash crop or as a component of agro forestry systems. The introduction of Moringa into the existing production systems will enhance food production and biodiversity and industry development from its products and by-products.
What makes it sustainable is it uses less water and less fertilizer than other oilseed crops. It can be grown in drier, more marginal land and it uses less input.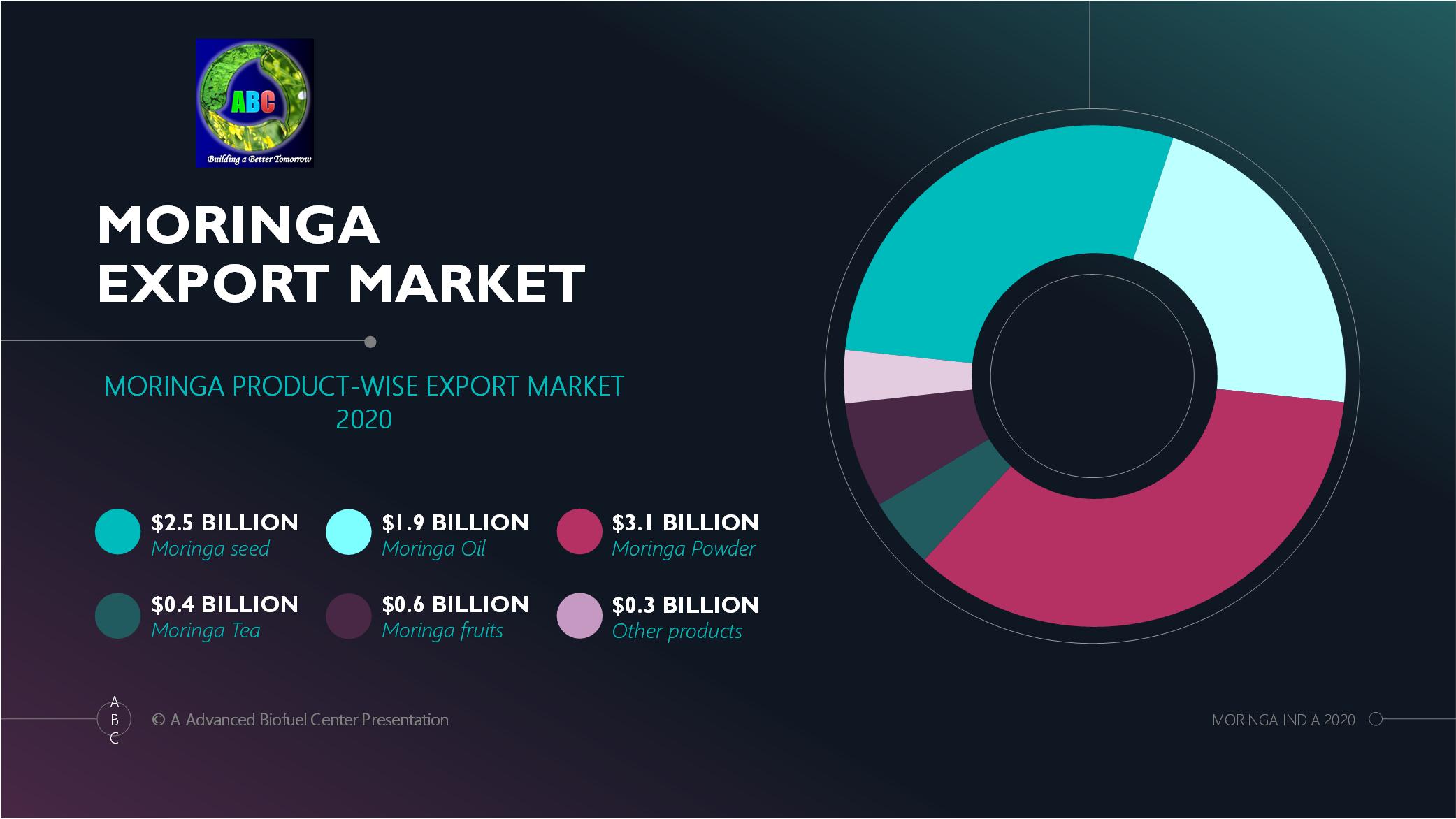 Moringa Business Proposition
Broadly speaking Moringa Business can be segmented in three verticals
Moringa health Foods

Moringa oil for cosmetic and pharma industries and

Moringa Biofuels
Globally, demand for two particular Moringa products has been growing rapidly: the highly nutritious powder derived from the tree's dried leaves, and the high quality oil that can be extracted from the tree's seeds. The former, Moringa leaf powder, is sold as a 'super food' in the international market for nutritional supplements. It is also increasingly the subject of interest from international organizations and institutions involved in the global fight against malnutrition.
The latter, Moringa oil, is highly coveted by international cosmetic companies for its excellent properties as an ingredient in fragrance and skin care products.
Having regards, to above, we at ABC introduced the concept of commercialization of Moringa by introducing different methods and cultivar of Moringa farming for different end harvest/product

 
Moringa Cultivation for solely Leaves Production

Moringa Plantation for oil Production and

Moringa Plantation for fuel Production
Moringa Biodiesel
Moringa oil has also the potential to displace diesel oil in the industry because of high stability of biofuel produced from Moringa oil
Moringa is a sustainable and environmentally friendly alternative to Mineral oils as it's seeds gives better oil than Palm, canola corn and soybean for biofuel production
Economic Model of a Biodiesel Production Facility
Moringa Intergrated Plantation: 10,000 ha
ADVANCED BIOFUEL CENTER, JAIPUR, INDIA
mail to moringabiodiesel@gmail.com or call +91 9829423333
Assumptions (inputs)
Output
Facility Construction
Annual Production and Resource Usage
Nameplate Capacity
330,00,000
liter/yr.
Construction Cost
Organizational Costs
$2,00,000
Total
$555,00,000
Process System
$360,00,000
Equity
$277,50,000
Land, Site and Other
$74,00,000
Debt
$277,50,000
Plant & Machinary
$100,00,000
Per liter Nameplate Capacity
$1.68
Office and Administration
$9,00,000
Per liter Operating Capacity
$1.68
Inventory & Working Capital
$10,00,000
Per kg Moringa Oil Oper. Cap.
$1.81
Estimated Life
15
years
Depreciation
$12,33,333
per year
Property Taxes
$50,000
per yr.
Biodiesel Production
Nameplate Capacity
330,00,000
liters per year
Financing
Operating Capacity
330,00,000
liters per year
Press cake
460,35,000
Kg/year
Percent Debt
50
%
Glycerine Production
33,00,000
Kg/year
Length of Loan
10
years
Moringa Oil Usage
306,90,000
Kg/year
Interest Rate
8.25
%
Natural Gas Usage
61,024
1,000 cubic feet/year
Electricity Usage
52,30,623
kilowatt hours/year
Efficiency Factors
Electricity Cost
$2,61,531
per year
Moringa Oil
0.93
kg/l biodiesel
Water Usage
174,35,410
liters per year
Production Level
100
% capacity
Water Cost
$16,121
per year
Glycerine
0.10
kg/l biodiesel
Number of Employees
28
employees
Methanol
0.09
kg/l biodiesel
Labor & Management Cost
$16,10,000
per year
Natural Gas
2
cub. ft./l biodiesel
Interest Cost
$22,89,375
per year
Electricity
0.16
Kwh./l biodiesel
Chemicals and Ingredients
$49,691
per year
Water
0.5
liter/l biodiesel
Repairs & Maintenance
$2,00,000
per year
Press Cake
1.4
kg/l biodiesel
Transportation Cost
$87,177
per year
Chemicals
Other Costs
$2,00,000
per year
Chemicals and Ingredients
1.51
¢/l
Production Costs
Prices
Chemicals
Cost per liter
Cost per barrel
Electricity
5.000
¢/KwH
Chemicals and Ingredients
1.51
¢/liter
2.39
$/bbl
Water
0.092
¢/l
Total Chemical Cost
1.51
¢/liter
2.39
$/bbl
Glycerin
7.500
¢/kg
Feedstock cost
20
¢/liter
31.80
$/bbl
Other Direct Costs
Labor & Management
Repairs & Maintenance
0.79
¢/liter
1.27
$/bbl
Number
Salary
Transportation
2.64
¢/liter
4.23
$/bbl
Operations
12
$68,000
Water
0.05
¢/liter
0.08
$/bbl
Maintenance
2
$72,000
Electricity
0.79
¢/liter
1.27
$/bbl
Laboratory
1
$80,000
Other
0.79
¢/liter
1.27
$/bbl
Material Handlers
10
$30,000
Total Other Costs
5.07
¢/liter
8.11
$/bbl
Administration
3
$90,000
Total
28
$16,10,000
Fixed Costs
Depreciation
3.74
¢/liter
5.87
$/bbl
Other Direct Costs
Interest
6.94
¢/liter
10.89
$/bbl
Repairs & Maintenance
0.79
¢/l
Labor & Management
4.88
¢/liter
7.66
$/bbl
Transportation
2.64
¢/l
Marketing & Procurement
1.06
¢/liter
1.66
$/bbl
Marketing and Procurement
1.06
¢/l
Property Taxes, Insurance, etc.
1.15
¢/liter
1.81
$/bbl
Other
0.79
¢/l
Total Fixed Costs
17.76
¢/liter
27.88
$/bbl
Revenue from by-products
Total Costs
$
Total Variable Costs
6.57
¢/liter
10.50
$/bbl
Glycerin
29,70,000.00
$
Total Variable & Fixed Costs
44.34
¢/liter
70.18
$/bbl
Press cake
$69,05,250.00
$
Less
Revenue from Glycerin
0.09
$/liter
14.31
$/bbl
revenue from Press cake
0.21
$/liter
33.27
$/bbl
Net Costs
22.61
$/bbl
(Above Financials are without intercropping)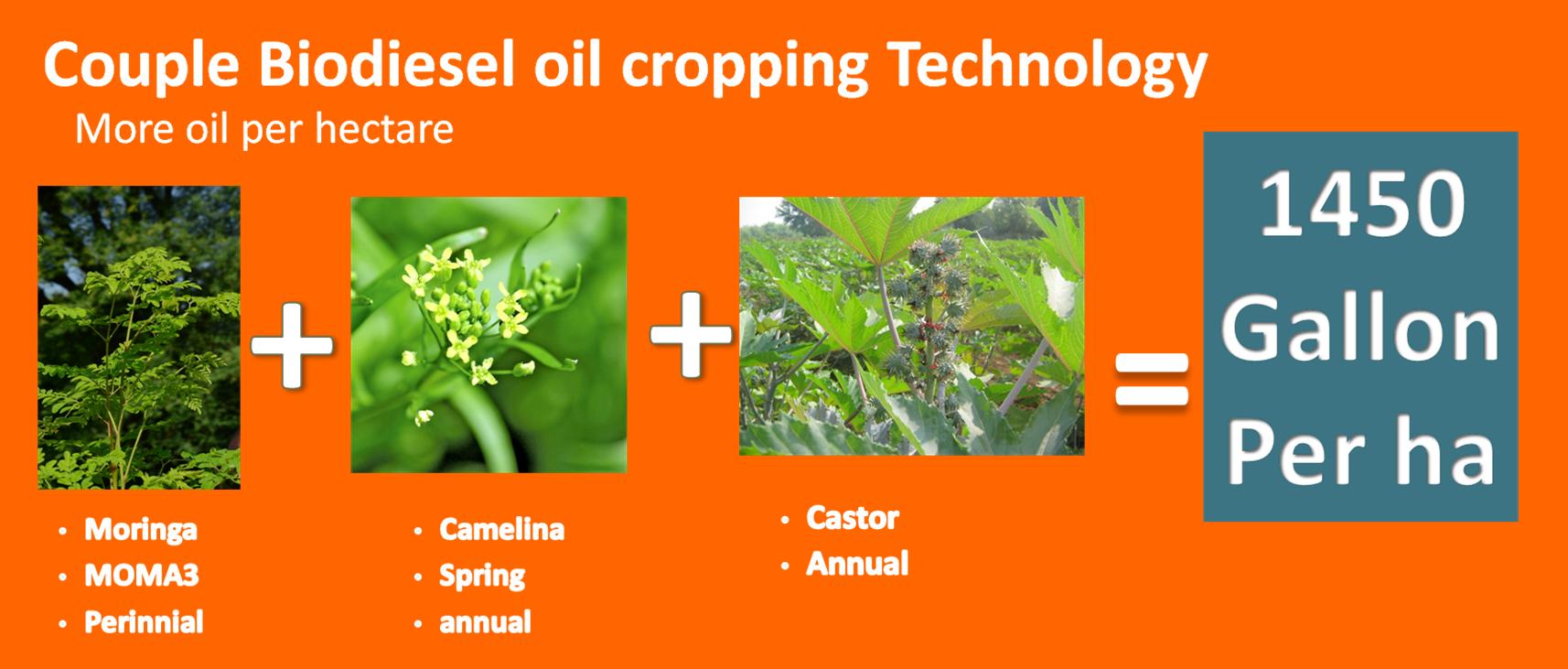 MOMAX3 Moringa with Camelina & Castor crops in same acreage could extend production, increase profits
The Advanced Biofuel Center (ABC) reported its progress on its work with its mission "more Moringa " by developing MOMAX3, the perennial Moringa variety for production of more oil per hectare. After introduction and success of MOMAX3-Maru-Moringa, researchers at ABC were further engaged in find out the best alloy cropping for the in between row space of MOMAX3 Plantation
The scientists at ABC finally selected short duration camelina crop in winter/spring planting and castor beans in summer planting in rotation with Pea nut and Brassica juncea
About MOMAX3 Maru-Moringa Perennial Trees
ABC is engaged in the development and commercialization of high yielding castor bean seeds as a cost competitive, sustainable, second-generation feedstock for the growing biofuel market. Castor is a high-value crop that has the potential to diversify our crop portfolio and crop rotation systems ABC's elite Moringa Oleifera variety 'Maru-Moringa (MOMax3™)' will yield at maturity as high as 3-4000 liters of oil per hectare,
Camelina
Once considered a weed, camelina is gaining popularity in some parts of the country as a soil-protecting winter cover crop. Additionally, its seed contains high-quality oil for use in cooking and as biodiesel, offering a renewable alternative to imported petroleum.) scientists at ABC have been on the forefront of studies to make camelina and other Biodiesel oilseed crops more profitable for Project developers to grow, easier for industry to process, and better performing as finished biofuels and other products. At ABC, the scientists are evaluating the outcome of integrating camelina, castor , flaxseed and other oilseeds with plantings of perennial tree oil crops such as jatropha, Moringa, mahua, pongamia .
Camelina oil has been found to contain high amounts of omega – 3 fatty acids, like flaxseed oil, which make it suitable for use as a nutritional supplement and a general purpose oil.
Castor Beans
Through CBMAX9™ improved seed product line, we provide the highest yielding, most uniform and profitable Castor in the world with 1.8 ton oil per ha
With introduction of Camelina and Castor Bean crops with MOMAX3 Moringa, as much as 1450 gallon of oil can be produced per year from a well developed, properly cared and efficiently managed Moringa Farm
The Moringa oil tree couple crop technology shall be showcased to the participants of Global Moringa Meet 2021: 3 days International Workshop on Moringa production & application and also to the registrants of Moringa Farm stay Programme
To know more about Moringa biodiesel business plan check here also and to get a quote submit your requirement here
To know more about Moringa value addition and business plan check here