Advanced Biofuel Center (ABC) has a full flagged business development division that provides Full Range of Business Consulting Solutions. With its extensive experiences in the field, enhanced technology, plant science & professional knowledge, effective consulting service and business intelligence. We at ABC being the one of largest grower of moringa can clearly understand the business model, products and services, production, marketing and provides all aspects of feasibility analysis and business development including assessments of crop production, crushing, co-product markets, risk analysis and financial analysis.
MORINGA : A unique business proposition to exploit the opportunity

The world food and nutritional supplements companies are predicting that the Moringa products shall acquire than 10% share of the industry in coming years, while companies in the cosmetics field are expecting its enthusiasts to embrace it within their industry. Present volume of trade of Moringa products in international market is not enough to qualify it as a commodity, but it is nevertheless a growing market worldwide . Originated from India, Moringa trees are now found in Ghana, the Philippines, Nigeria, Kenya, Rwanda, Niger, Mozambique, Cambodia and Haiti. Today, the Global Moringa Market is estimated at more than US$ 8 Billion, which is expected to cross US$ 20 Billion by 2030, growing at a rate of more than nine per cent annually.
Moringa oleifera is a very fast growing tree; it commonly reaches four meters in height just 10 months after the seed is planted and can bear fruit within its first year. Its pods are triangular in cross-section (30 to 50 cm long) and legume-like in appearance. These pods have oil rich black and winged seeds, which can be crushed to produce biodiesel. Moringa could yield +3 ton oil per ha and that it could be used for food in times of shortages. The seeds contain 30 percent to 40 percent oil that is high in oleic acid. The meal yields about 61 percent protein.Moringa are extremely nutritious, containing all the essential amino acids along with many vitamins and other nutrients. Virtually every part of the tree can be used. Value addition means converting the fresh produce into products which could be utilized for immediate purpose or stored for future use by applying various indigenous and high techniques suitable for each crop. The processed products from moringa is moringa leaf powder, moringa fruit powder, moringa capsules, moringa dried leaves, moringa oil, moringa seed cake powder and moringa tea.
NEED OF A PLAN
There is an increasing demand of good quality Moringa Products in developed regions of Europe and North America. Countries as Africans and India have not enough output in terms of Moringa production to meet rising worldwide demand. Determined efforts are being made by such countries to increase production by using advance technology in agriculture and production.
Estimates of yields, prices and cost vary greatly, making it difficult for potential growers to make informed investment decision about growing the Moringa. The lack of agronomic data about the oil crop growing makes it impossible to make investment decision on Moringa growing with the confidence and certainty associated with a decision to grow and establish a successful plantation. We identifies the Key elements in growing Moringa and their effects examined. And provide accurate information about the crop for potential Moringa investors and growers after performing feasibility study.
A well-thought-out business plan can be one of the best time management tools for a biodiesel project developer. Business plans can be consuming in terms of time and money but a well-executed business plan will save the project time and money. The business plan should identify production costs, as well as operating costs, including equipment, land, and cultivation and after care, labor, inputs and financing, utilities, and financial projections. The business plan should be a living document that changes and grows with the project. The big picture information and the unique aspects of the project, as well as the strategies to overcome business, procurement and product marketing challenges are the points in project development and be covered in business plan. The business plan is often underrated but should be the key management tool for the project.
The Making of a PLAN
A business plan represents the road map for successfully developing or expanding a business. A complete business plan includes short-term and intermediate goals, time tables for achieving these goals, and estimated start-up costs. It serves as a feasibility plan, a marketing plan, and an operating plan. A business plan also is a tool for attracting potential investors and can be used to successfully negotiate start-up loans with lending institutions. Although no one likes to think about things that could go wrong with a new business, a good business plan will also include contingency plans for countering probable pitfalls.
This fact sheet provides information on the contents of a typical business plan, especially as it relates to food and Moringa products businesses. The business plan format utilized for this fact sheet obviously is not the only format, but it does represent a fairly standard business plan outline. A business plan should include a cover/title page and a table of contents.
Starting a value-added business, especially one related to moringa production and distribution, requires considerable planning. Carefully designing a plan for the business, keeping in mind regulatory and business environment conditions, will drastically increase the chances of business success and longevity. Just as a well-planned vacation allows a family to avoid unpleasant surprises and expenses, a well-planned business start-up guard against crucial problems and financial stress
We make the integration of our experience and professional knowledge with your information and formulate customized Moringa business plan for oil/leaf powder production. In undertaking this Technical & Financial Inputs assessment, we shall have relied on Primary inputs supplied by you, our IPR knowledge & research experiences and expertise in the field; on industry experts and secondary information derived from recognized public sources and via ABC's database and multi-client reports.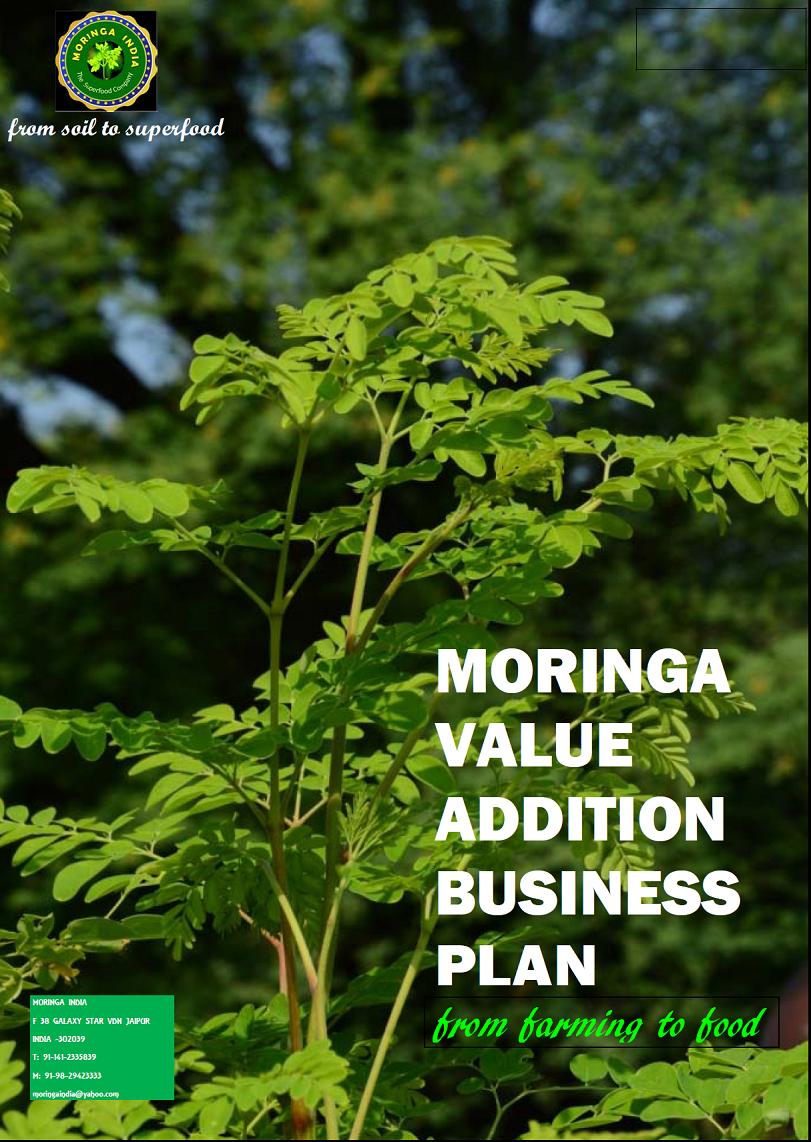 The most critical component of any business plan is the pro forma, an educated view or projection of what the performance of a company is capable of, given a specific set of assumptions and conditions. ABC has been involved in identifying these needs for specific projects for a number of years and can help develop a realistic and obtainable:
1. Income Statement
2. Balance Sheet
3. Capital Budget
4. Cash Flow
5. Break-even Analysis
6. Sensitivity Analysis
7. Assumptions Governing the Projections
The plan shall be vertically integrated business covering all three stages from plantation to product making with all technical and financial details.
Why ABC?
Our unique approach
ABC operates quite differently from generic management consultants who are typically restricted as a one-man practice, often limited in their geographical reach, capacity and areas of specialization.
As the leading business plan experts, we do not use a template plans, rather we use our widely accepted proprietary framework which confirms to best practice norms. Businesses similar to people who run them are not homogeneous, hence each plan by us is carefully crafted to meet specific business requirements. High quality customized service is ours policy and priority. We have a full flagged Business Development Division where the top scientists of agronomy, plant science, technocrats and financial experts work together to prepare a complete comprehensive and customized Moringa Value Addition Business Plan.
We believe our experience in Moringa projects is marketable and proven with integrity. With the increased interest in Moringa, many people are trying to market their services in Moringa Sector . In many consulting firms, it appears that they are working with feasibility plans and business plans that are not field-tested. Many of these individuals may not possess the experience equal to that which ABC has accumulated.
So, whether you're looking to pitch to raise finance or want to map out an opportunity for growth, let ABC' team of business professionals take you through a business planning process that you won't ever forget. When the Business development Division of ABC assists in building your business plan; they are helping you to build your company's future.
The Cost
"In the business world, everyone is paid in two coins: cash and experience. Take the experience first; the cash will come later."
While there is a lot of time and effort that goes into the development of a business plan including performing feasibility studies identify business opportunities that can be implemented. Business plans use a strategy to optimize the opportunities presented by a feasibility study. Some of these elements can be more effectively targeted when you have the experience that ABC has in the industry. ABC offers a better product for less money than most other companies doing targeted biodiesel business consultancy.
We offer to prepare a customized complete and comprehensive Moringa Value addition business plan including Plantation, establishment of the crushing/oil plant and leaf processing & powder making plant with all technical & financial details in this regard. Also capsule/tablets making shall be included
For a detailed quote contact us
Director Moringa
MORINGA INDIA
(Super Power Food)
ADVANCED BIOFUEL CENTER
(Building a Better Tomorrow)
Biodiesel Business Academy
(Global Knowledge Platform)
F-38-39, FIRST FLOOR GLAXY STAR A-2 CENTRAL SPINE
VIDHYADHAR NAGAR JAIPUR- 302039 (INDIA)
T: (+91) 141 2335839
F: (+91) 141 2335968
M: (+91) 98 29423333
E: moringaindia@yahoo.com
Skype: cjp-india