About Us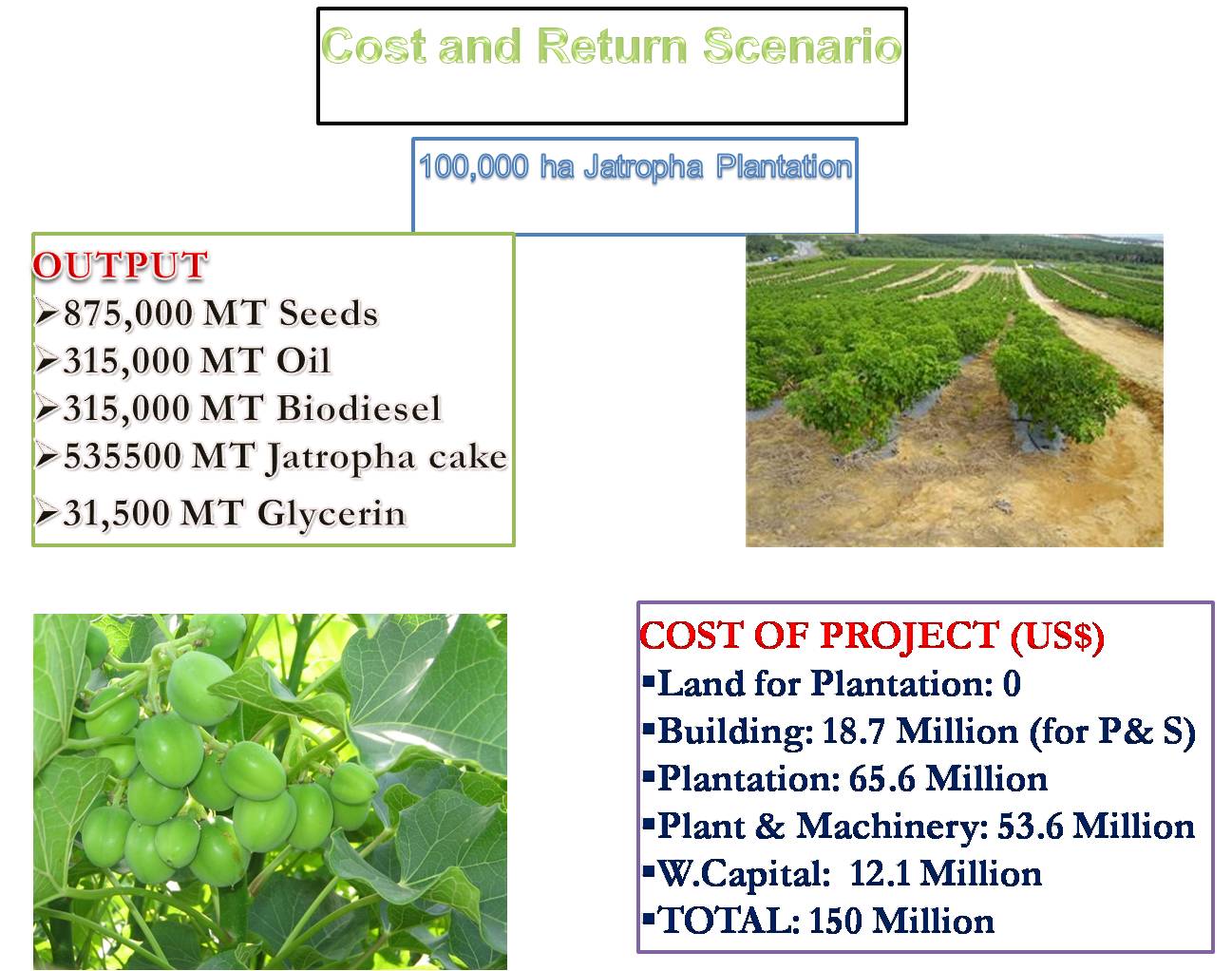 We Aspire
To create opportunity for people of every walk of life to achieve their dreams & better their live
WE believe in
Optimism, encouraging initiative, hard work, honest intention and success
We Abide By
Trusting people enduring relationship, encouraging individuals with vision and commitment to realize their full capacity & helping people to build their a new future
OUR VISION
To Cultivate 100 000 hectares of land within the COUNTRY and 1,000,000 ha worldwide by 2015 to produce up to >10 Million metric tons of Oil, to supply Transesterification plants (Bio Diesel Refineries) domestically and World – wide

Mission Statement
We believe that Jatropha has the potential to become a "second generation" feedstock for biofuels that has significant advantages over other, often less sustainable, biofuel feedstocks used today.
Jatropha projects offer the chance to realize triple-bottom-line investments with significant social, environmental and economic returns.
Our aim is to support all players involved in Jatropha in realizing the potential of this crop
Our Pesence
Worldwide
Our Objectives
To promote Jatropha and other non-food oil bearing crops for a sustainable biodiesel industry
Our Programme
Support, assist, represent, advise, negotiate, manage and train participating farmers in all matters, to successfully plant and harvest Jatropha Curcas for the production of bio fuel "Diesel" and affiliated products in INDIA and World wide. Seedlings are produced at commercial nurseries and made available to farmers at self cost.
CJP is a leading organization with sound Technical IPR knowledge and plant science expertise, focused on the development of non-food biodiesel crop Jatropha curcas and others. Our primary goal is to discover and develop high-yielding crops that generate the most bio-energy per hectare of land. We have identified and developed new elite varieties of feedstock crops optimized for production under different agro-climatic conditions, economic and social parameters. Our aim is to deliver cultivars with improved quality, increased resistance to disease and pest infestation, and greater yield.
The CJP experts working on the Jatropha plantation have developed Superior planting material with standard benchmarks as SRIPHL-J03 and the best Nursery techniques for production of quality saplings just to ensure proper and profitable production of Jatropha crop.
CJP is a world recognised Jatropha Planter & Promoter, - as the Jatropha Farming Management entrepreneur AND strives to provide QPM Nursery with GAP and management disciplines for production of Jatropha to our esteemed customers/farmers/COPORATES.
We accomplish this by constant and devoted trials/ experiments being carried out for improvements.
We believe our experience in Jatropha energy projects is marketable and proven with integrity. It shall continue to be, - its role is to connect the Best, to create the Best, to comply with the Best
We are known for our ability to deliver the best for Creation OF Failsafe Fuel Farm
We would love the opportunity to work with you
Call us with your needs and let us show you how the Jatrophaworld team can work for you
AS HARD WORK IS FOLLOWED BY HIGH REWARDS?
LET US SAY " NO LAND IS WASTELAND"
LET THE FUEL FARMING START WE ARE HERE TO HELP YOU
B-132, SAINIK BASTI, CHURU - 331 001, (Rajasthan) INDIA
Tele: +91 1562 255575, MOBILE-+91 9413343550,
E-mail: jatropha_c@yahoo.co.in
WEB: : http://www.jatrophaworld.org