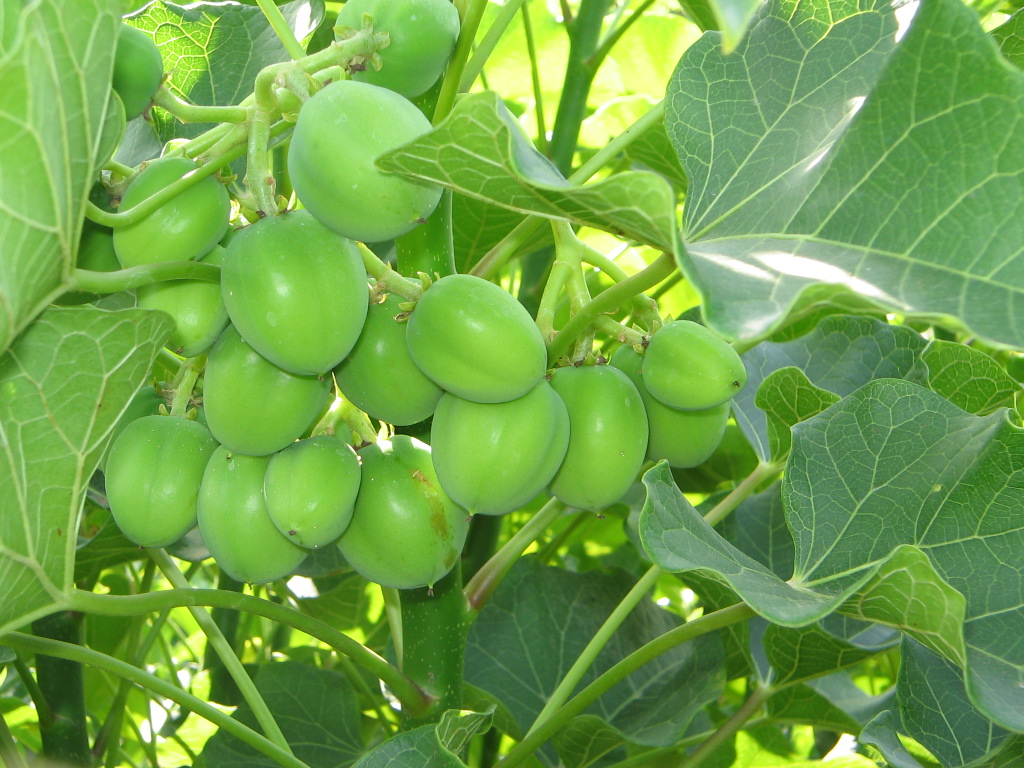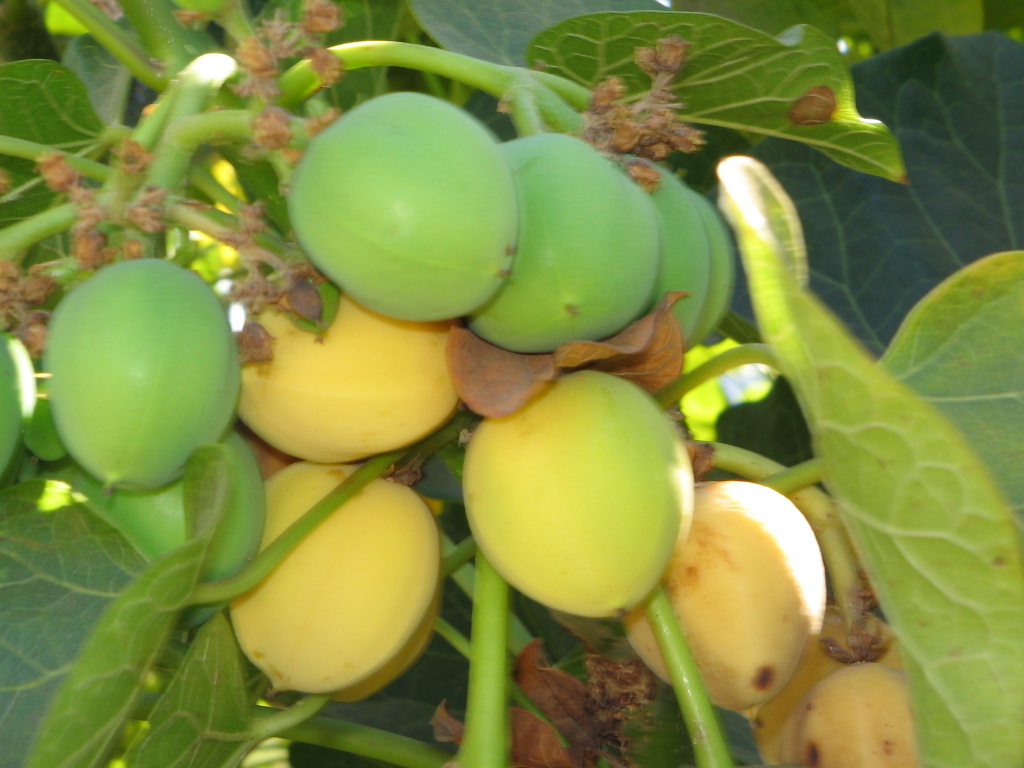 ECONOMICS
JATROPHA OIL PRODUCTION
The economic scale for cost of bio-diesel production is determined taking into account the amount of raw oil extracted from a seed to be +30%. The amount of raw oil content in the seed again depends on the quality of the seed. The output of the raw oil from the extraction unit is a key determining factor for deciding the capacity of the transesterification unit. The cost of the extraction stage is based on the capacity of the extraction plant, which, in turn, is based on the seed yield.
Together with the oil, by-products of the production are:
Residual of sedimentation process
The Press cake has mineral contents of nitrogen (6%), phosphorous (2.75%) and potassium (0.94%) similar to chicken manure, the press cake can be used as organic fertiliser. An application of 1 ton press cake is equivalent to 200 kg of mineral fertiliser (NPK 12:24:12).
In the present calculation, the price for the press cake is taken lowest possible (42 $/ton).
The estimated price for 1 ton of residual is 120 US$/ton which is used for making washing soaps.
SEEDS SELF PRODUCTION OR PURCHASING
Now question is that seeds should be purchased or own produced
We have analysis in both scenario and found the in scenario of own seeds the ROI is just 3 times in comparison of seeds purchasing
Further different plant capacities have different fixed and variable costs, which ultimately affect the final pricing of bio-diesel. The other important factor on which the pricing of bio-diesel depends is the extraction efficiency, which raises the yield of raw oil and reduces the long-run marginal cost of bio-diesel production.
Solvent extraction plants are more efficient and may yield +5% more oil than the oil expellers. Since minimum quantity of seeds processed by solvent extraction plant is +200 tons per day, we may only assume to install it if plantation size is +7000 ha.
Following are the analysis of cost/return of SVO production
FOR A PLANTATION SIZE: 1000 HA
SCANERIO I: OIL EXTRACTION

With Purchased seeds

SCANERIO II: OIL EXTRACTION

With own seeds

CAPACITY: 3000 TON/YEAR

CAPACITY: 3000 TON/YEAR

CAPITAL COST

$250,000.00

CAPITAL COST

$250,000.00

Required tonnage of seeds

9625

Required tonnage of seeds

9625

Oil Production

3000

Oil Production

3000

Press Cake

6000

Press Cake

6000

Residual

500

Residual

500

PRICE

PRICE

Oil Production

$550.00

Oil Production

$550.00

Cake

$42.00

Cake

$42.00

Residual

$120.00

Residual

$120.00

SALES

SALES

Oil Production

$1,650,000.00

Oil Production

$1,650,000.00

Cake

$252,000.00

Cake

$252,000.00

Residual

$60,000.00

Residual

$60,000.00

TOTAL

$1,962,000.00

TOTAL

$1,962,000.00

COGS

COGS

Seeds

$140.00

$1,347,500.00

Seeds

$50.00

$481,250.00

Crushing Expenses

$45,000.00

Crushing Expenses

$45,000.00

Utility

$30,000.00

Utility

$30,000.00

H & S

$30,000.00

H & S

$30,000.00

Personnel

$15,000.00

Personnel

$15,000.00

TOTAL

$1,467,500.00

TOTAL

$601,250.00

Gross Profit

$494,500.00

Gross Profit

$1,360,750.00

Depreciation

10.00%

$25,000.00

Depreciation

10.00%

$25,000.00

Interest

9.00%

$22,500.00

Interest

9.00%

$22,500.00

PBT

$447,000.00

PBT

$1,313,250.00

Taxes

30.00%

$134,100.00

Taxes

30.00%

$393,975.00

NET PROFIT

$312,900.00

NET PROFIT

$919,275.00

ROI

1.2516

ROI

3.6771
[US$ 'January, 2007]
FOR A PLANTATION SIZE: 10 000 HA
SCANERIO III: OIL EXTRACTION

With Purchased seeds

SCANERIO IV: OIL EXTRACTION

With Purchased seeds

CAPACITY: 34650 TON/YEAR

SOLVENT EXTRACTION

CAPACITY: 34650 TON/YEAR

SOLVENT EXTRACTION

CAPITAL COST

$450,000.00

CAPITAL COST

$450,000.00

Required tonnage of seeds

96250

Required tonnage of seeds

96250

Oil Production

34650

Oil Production

34650

Press Cake

57750

Press Cake

57750

Residual

5000

Residual

5000

PRICE

PRICE

Oil Production

$550.00

Oil Production

$550.00

Cake

$42.00

Cake

$42.00

Residual

$120.00

Residual

$120.00

SALES

SALES

Oil Production

$19,057,500.00

Oil Production

$19,057,500.00

Cake

$2,425,500.00

Cake

$2,425,500.00

Residual

$600,000.00

Residual

$600,000.00

TOTAL

$22,083,000.00

TOTAL

$22,083,000.00

COGS

COGS

Seeds

$140.00

$13,475,000.00

Seeds

$42.00

$4,042,500.00

Crushing Expenses

$415,800.00

Crushing Expenses

$415,800.00

Utility

$311,850.00

Utility

$311,850.00

H & S

$346,500.00

H & S

$346,500.00

Personnel

$173,250.00

Personnel

$173,250.00

TOTAL

$14,722,400.00

TOTAL

$5,289,900.00

Gross Profit

$7,360,600.00

Gross Profit

$16,793,100.00

Depreciation

10.00%

$45,000.00

Depreciation

10.00%

$45,000.00

Interest

9.00%

$40,500.00

Interest

9.00%

$40,500.00

PBT

$7,275,100.00

PBT

$16,707,600.00

Taxes

30.00%

$2,182,530.00

Taxes

30.00%

$5,012,280.00

NET PROFIT

$5,092,570.00

NET PROFIT

$11,695,320.00
[US$ 'January, 2007]
For Detailed Financial Analysis Kindly Obtain Our JATROPHA OIL MAKING BUSINESS PLAN For further enquiry kindly contact:
Director
Business Development, C J P